For additional events please see our Facebook page.
Living to 100: Lessons in Maximizing your Potential at any Age
Tickets are not available as this event has passed.
Free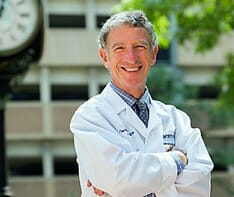 Presented by Dr. Thomas Perls
On May 17th at 7 PM at the Ridgewood Community Center in Village Hall at 131 N. Maple Avenue; Age Friendly Ridgewood, The Valley Hospital, Van Dyk Healthcare, and the Ridgewood Parks and Recreation Department will host our first Community Health Talk with Dr. Thomas Perls.  Dr. Perls is a geriatrician and researcher in the study of aging at Boston University School of Medicine. He also leads the National Institute on Aging-funded New England Centenarian Study (the NECS), the largest study of people living to 100 years and beyond in the world. In addition, he directs the Long Life Family Study at Boston University. These studies are leading the way in finding out how and why centenarians and their children, who are in their seventies and eighties, live the vast majority of their lives disability-free.
Dr. Perls is the author of Living to 100: Lessons in Maximizing Your Potential at Any Age and over 120 academic publications on extreme longevity and the avoidance of age-related diseases. Dr. Perls has appeared on 60 Minutes, CBS Sunday Morning, The Today Show, Good Morning America, nightly news programs, and NPR.
Centenarians and supercentenarians, those living to 110 and over, represent a new paradigm of aging; rather than "the older you get the sicker you get," the centenarian study is finding that "the older you get, the healthier you've been"!  Though genetics plays an important role in living to 100 and beyond, most people should be able to live to nearly 90 in exceptional health. These 25 to 30 years beyond age 60 of good health could mean a gold mine of new possibilities and vast potential for today's Baby Boomers and future generations. People of all ages and those working with older adults are encouraged to come for what will be an intriguing and thoughtful discussion of healthy lifestyles and aging.
Parking for this talk will be available at Village Hall and at the Graydon Pool parking lot.  A shuttle bus will be available to bring people from the Graydon Pool parking lot to Village Hall that evening.
Please RSVP by May 15 using the link above.
For more information contact [email protected] or call (201) 632-1554.