Age Friendly Ridgewood is a collaborative team of grant-funded part-time staff (Beth Abbott, Sheila Brogan and Sue Ullrich) and many volunteers whose goal is to promote awareness of the needs of adults 55 and over when designing projects that will ultimately improve the Ridgewood community. We started this effort by conducting a needs assessment survey of Ridgewood residents 55 and older from October 2015 through February 2016 and a follow-up survey was conducted in 2019.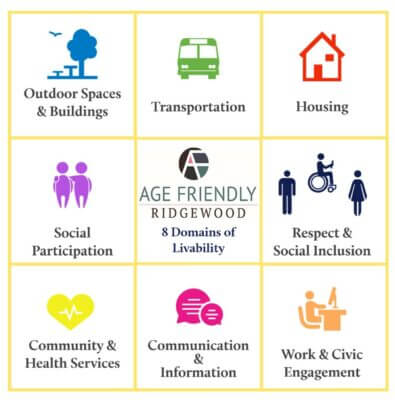 The Community Center of Ridgewood Foundation is our valuable partner.
We are extremely grateful for funding support from the Henry and Marilyn Taub Foundation which enabled us to publicize the survey to increase the response rate, to hire Montclair State University CREEHS to analyze the data and publish the results, to conduct focus groups to review the survey data, and to identify action plans. Their continued support will help fund our efforts to implement our action plans to make Ridgewood an Age Friendly Community.
Within Bergen County Englewood, Fair Lawn, Garfield, Glen Rock, Teaneck, and Westwood are also receiving similar grants and we meet often to learn together and share information and plans.
In May 2019 Ridgewood was admitted into the AARP Network of Age-Friendly States and Communities.
Based on the survey data the following needs and resulting action items are:
Housing

There is a need for more retiree-friendly housing in diverse forms, that is accessible and affordable.

Action Item: Create advocacy team to highlight need for housing options and investigate tax relief.

Status:

Advocacy team has met with numerous local entities to facilitate our education on these issues.

Completed Age Friendly Land Use Analysis and Aging-Friendly Implementation Plan in collaboration with New Jersey Future.

Offered perspective and organized citizen input for Ridgewood's new version of its Master Plan.

Investigating housing options such as shared housing and Accessory Dwelling Units.

Ongoing publicizing of housing opportunities especially affordable options.

Pedestrian Safety

There is a need for improvements to specific roads and walkways, especially near the Central Business District, to increase walkability and safety.

Action Item: Create task force to highlight these needs and investigate funding a walkability study.

Status: 

Walkability Study completed in June 2017 and submitted to Village Government and other interested parties.

Sidewalk Audit conducted in November 2017 and updated Winter 2020/2021.

Input from studies above has resulted in improved sidewalks and upgraded crosswalk signage.

Contributed three benches installed in the Central Business District.

Ongoing priorities are a walkway from the Ridgewood train station to Ridgecrest Housing complex, additional bus shelters and improvements to existing bus shelters, and demonstration projects to test proposed additional upgrades to intersections and crosswalks.

Transportation

There is a need for more flexible transportation options for those wishing to drive less.

Action Item: Create team to investigate transportation improvements and pilot enhancements.

Status: 

Produced brochure of local and County transportation options.

Providing transportation to special events at no charge to riders.

Advocated for new senior bus which was purchased by Village in 2019.

Financed third day of senior bus driver service until Village took over.

Ran three special senior bus tours to attract new customers and exhibit features of Ridgewood.

During COVID when senior bus was not running paid for special taxi service for riders who depended on the senior bus.

Produced video to publicize restart of senior bus after COVID shutdown.

Leveraging the Expertise of the Older Population

Older adults are looking for meaningful ways to share their skills in the community.

Action Item 1: Host a Volunteer Fair.
Action Item 2: Become involved in a Makerspace Intergenerational Collaboration at Ridgewood High School.

Status:

In collaboration with Ridgewood Public Library hosted Volunteer Fair March 2017 including over 40 organizations and attracting 250+ potential volunteers.

Loaded list of volunteer organizations onto our website.

Makerspace Intergenerational Collaboration at Ridgewood High School ran from Fall 2017 for 2 years, suspended for lack of enough documented student involvement.

Ongoing publicity for Bergen Volunteer Center Redefining Retirement initiative and other volunteer opportunities.

Created Steering Committee including many older adults residents and initiated a Community Coordinating Committee during COVID-19 pandemic.

Homeowners and Homebound

Many homeowners are struggling with tasks such as snow and leaf removal and handling their trash and recycling. Also some homebound residents suffer from lack of social connections.

Action Item: Investigate ways to assist older residents especially the homebound.  

Status: 

Conducted drive for non-food essential items to distribute to those in need in our area Summer 2017 and 2018.

Piloted program to connect elementary school students and parents with neighboring older adults to assist with outdoor household tasks in Willard and Hawes School Districts 2017 and 2018.  Plenty of volunteers emerged but older adults did not take advantage, perhaps a familiarity issue, so program suspended.

Prepared a brochure for residents with information about local low cost chore, household task  and home repair services.

Ongoing planning of social events such as Welcome Breakfasts for older adults at the start of the Village pool season.

Funded outdoor exercise class during COVID through Ridgewood Parks and Recreation.

Partner each year in early November with Village organizations to host the Giving Thanks Elder Dinner.

During COVID worked to connect residents with assistance, especially homebound residents.

Collaborated with Ridgewood Emergency Services on residents filling out File of Life cards and enrolling in Special Needs Registry.

Working on emergency preparedness materials.

Communication

There is a need for enhanced communication of resources and events. And beneficial to all would be a greater understanding between the business community and the older population.

Action Item 1: Create AgeFriendlyRidgewood.org website.
Action Item 2: Outreach to business community with dual goal of assisting them to grow their client base of older adults and benefitting our older adults with business practices suited to their needs

Status: 

Website and Facebook pages created 2017 and major update 2020.

Email newsletters initially monthly and increased to weekly or biweekly during COVID.

Printed resource directly was produced and distributed replicating Resources information on our website.

Serving as reliable provider of information and referral services to benefit older adults and their families.

Outreach to business began October 2017 with the support of the Ridgewood Chamber of Commerce and the Ridgewood Guild. Included materials on Age Friendly practices, adding business names to our website.

Conducted Age Friendly shopping event with downtown retail stores.

Ongoing coordination with Ridgewood Public Library on speakers about subjects including Medicare, Social Security, Identity Theft and Scams and healthy lifestyles.

Distributed our information at multiple Good Life Ridgewood Wellness Fairs and Downtown for the Holidays events.