For Renters
Bergen County Division of Senior Services Housing Navigator Notes
Maureen McCormick 201-336-7435
www.co.bergen.nj.us/division-of-senior-services
Provides consolidated listing of available affordable housing in Bergen County.  Scroll down under Documents on the above web page and click on Housing Navigator Notes to see recent email, or email to be put on Navigator Notes Hot Topics newsletter email list [email protected].
Housing Authority of Bergen County
201-336-7600
www.habcnj.org
The Housing Authority of Bergen County(HABC) was established in 1964 with the goal of providing housing opportunities for low income families and older adults. Check their website for a complete listing of HABC buildings, housing programs, and for notices when individual building waiting lists are open for applications.
Ridgecrest Apartments
www.RidgecrestSeniorHousing.org
Ridgecrest Apartments, also known as Ridgecrest Senior Housing,  are an independent living, affordable housing community for adults age 62+ and people with disabilities. Ridgecrest Apartments are subsidized by the U.S. Department of Housing and Urban Development (HUD).
Please call the Managing Agent at 201-612-7298 for housing inquiries.
New Jersey Department of Community Affairs
609-292-4080
nj.gov/dca/divisions/dhcr/offices/section8hcv.html
The listing of DCA County Field Offices can be found here: nj.gov/dca/divisions/dhcr/offices/docs/fieldofficedirectory_2016_Aug.pdf Check websites for notices when waiting lists for their buildings are open. Waiting times can be up to 5 years. Section 8 – not accepting applications at this time. All programs will have preferences.
New Jersey Housing Resource Center (NJHRC)
www.njhrc.gov
The NJHRC is a FREE, online searchable registry of affordable and accessible housing units throughout the State of New Jersey, including: Affordable Rental Housing, Affordable For-sale Housing, Housing with Accessibility Features.
Center for Food Action – Mahwah Office
201-529-5029
www.cfanj.org
Can provide limited rental assistance for a person in need – one month's back rent for a person who has received an eviction notice or the first month rent on a new, more affordable apartment up to a capped amount. Also may provide assistance to pay security deposit.
SHARE, Inc.
201-670-9605
www.shareridgewood.org
Two homes in Ridgewood provide affordable, home like environment for independent seniors. Contact directly for monthly rates and availability.
Women's Rights Information Center
201-568-1166
www.womensrights.org/pands.html
Shared Housing is a personalized service that matches those who are looking for housing with those who are looking to share their home or apartment.
Additional Affordable Apartments
Contact municipalities to see if they have affordable housing options and if applications are available.
Greater Bergen Housing Coalition
316 State Street
Hackensack, NJ 07601
201-488-6767
Free legal rights related information for tenants.
For Homeowners
Homestead Benefit
1-877-658-2972
Tax credit on property tax bill when the state allocates money for this program.
Property Tax Reimbursement (Senior Freeze)
1-800-882-6597
PTR-1 form used for first time applicants, PTR-2 form for renewal.
Must apply each year, usually between mid to late February through mid October.
Senior Citizens Tax Deduction
Contact your municipality. Provides a deduction of $250 for homeowners whose income is $10,000 or less a year, excluding Social Security Benefit.
Veterans Deduction
Contact your municipality.
Bergen County Home Improvement Program (HIP)
One Bergen Plaza, 4th Floor, Hackensack, NJ 07601
201-336-7210
www.co.bergen.nj.us
Deferred loan financing and home repairs (new roof, heating system, windows, doors, etc.) to help rehabilitate owner occupied homes for qualified homeowners.
The Modification Access Project (MAP)
Heightened Independence and Progress
131 Main Street Suite 120, Hackensack, NJ 07601
201-996-9100 ext.18
Provides financial assistance to Bergen County residents who have disabilities or are over the age of 60 who need to make changes to their homes in order to accommodate disabilities. Such projects can include ramps, widening of doorways, roll-in showers, lifts, automatic door openers and more. Where needed, MAP can also help pay for professional evaluations. Funding up to $1800.
Chore Program at the Bergen Volunteer Center
201-489-7790
Volunteers do minor home repairs and chores for the cost of the materials.
Weatherization
Bergen County Community Action Program
201-968-0200 x 7008
Insulation, new appliances, heating system, water heater to help with energy costs.
Reverse Mortgage
Bergen County Counselors available to educate and assist
201-336-7569
Rebuilding Together North Jersey
P.O. Box 1389, Ridgewood, NJ 07451
201-447-8886
www.rtnorthjersey.org
Provides home repairs for low income residents, allowing them to live in a safe and healthy home.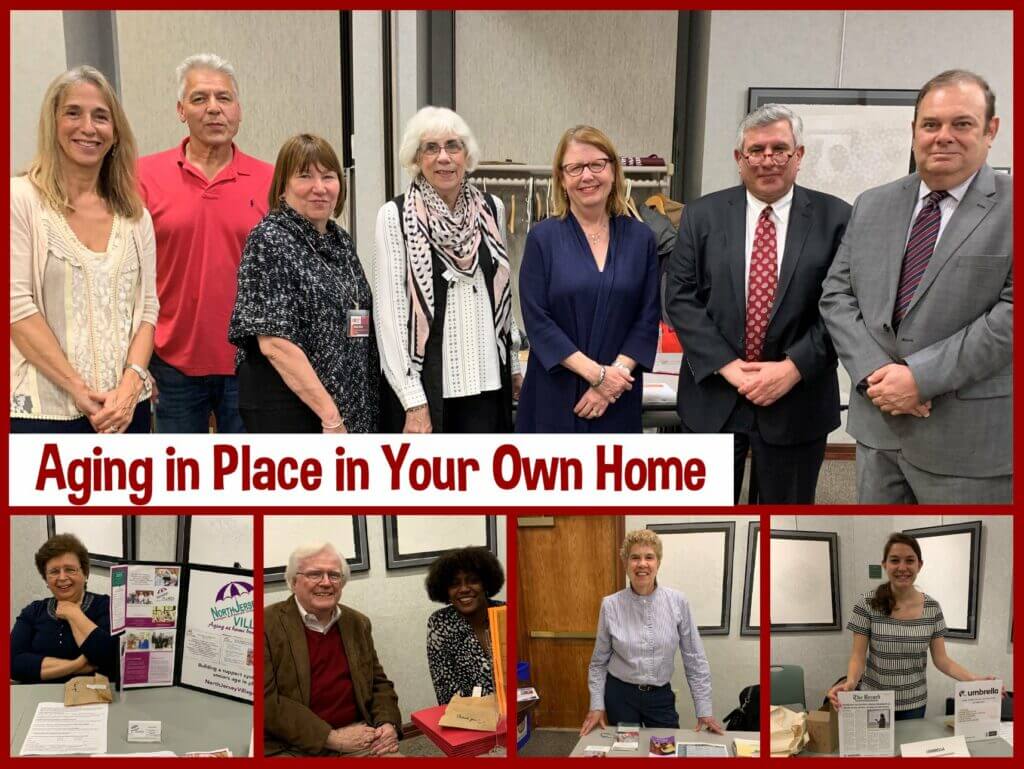 Expense Assistance
Greater Bergen Community Action
Cynthia Arone, ESI Case Manager
201-968-0200 x 7501
www.greaterbergen.org
[email protected]
Local ESI Service Center offers a "one-stop shop" where individuals receive referrals and assistance. The services are both private and anonymous. At a one-on-one meeting, an ESI case manager will look at all client needs and the ESI/BenefitsCheckUp® Program will find all of the services and programs for which the client may be eligible.
Low Income Home Energy Assistance program (LIHEAP)
Greater Bergen Community Action
316 State Street, Hackensack, NJ 07601
201-488-5100
PAAD/ Senior Gold for prescription assistance
800-792-9745
Also through PAAD — Lifeline Utility Credit program and Lifeline Communications provides a discount on Verizon home phone (landline) service.
Communications Lifeline
Those eligible for SNAP (Food Stamps), Medicaid, SSI, Section 8 Housing Assistance, Veterans and Survivor Pension Benefits or whose income is at or below $16,281 a year may qualify for a free cell phone or a discount on their Verizon landline bill.
Safelink Wireless or Assurance Wireless provide the free cell phones with 350 minutes a month.  Information about the free cell phones and applications are available at:
To apply for a discount on the Verizon landline contact NJ Shares at 1-888-337-3339. The Lifeline discount is up to $22.50 a month.
Note: You can only apply for one of these options – a free cell phone or a discount on your Verizon landline bill.
Social Services Association of Ridgewood and Vicinity
Six Station Plaza, Ridgewood, NJ 07450
201-444-2980
www.ssaridgewood.org
email: [email protected]
Social Service Association's mission is to provide food through their food pantry, emergency rent, utility assistance and support services to our neighbors in need. With the goal of being a community resource and family service agency helping to preserve the dignity and stability of the individual. Social Service Association serves the communities of Ridgewood, Glen Rock, HoHoKus, Midland Park, Waldwick, and Wyckoff.
They are open weekdays 9 to 3, but it is best to call the number above to verify their open hours before visiting.
New Jersey Polio Network
Heightened Independence and Progress
131 Main Street Suite 120, Hackensack, NJ 07601
201-996-9100 ext.18
Aids individuals throughout the state who have been affected by polio. Individuals can apply for grants for such needs as medical evaluations, home modifications, assistive devices and medical transportation costs. Funding up to $1000.
The Special Needs Assistance Program (SNAP)
Heightened Independence and Progress
131 Main Street Suite 120, Hackensack, NJ 07601
201-996-9100 ext.18
Assists Bergen County residents with disabilities or those who are over 60 to purchase medical and non-medical equipment and services that can help improve their day-to-day lives. This type of equipment could include bathroom safety bars, bath benches, walkers, hearing aids, automobile modifications, as well as rental of wheelchairs. Funding up to $300.
Long Term Care Facilities
NJ Department of Health
web.doh.state.nj.us/apps2/healthfacilities/fsSetSearch.aspx?by=county
Find a listing of Long Term Care Facilities and Assisted Living Facilities. Web site allows for a customized listing by county.
Ombudsman for the Institutionalized Elderly
NJ Long-Term Care Ombudsman
P.O. Box 852
Trenton, NJ 08625-0852
1-877-582-6995
www.nj.gov/ooie/
Promotes and protects the rights, health, and welfare of seniors in healthcare facilities. Investigates complaints and reports of abuse.